Ivan Plachkov and Kolonist winery team have the honour to invite you to celebrate a unique event – the old Balkans holiday "Trifon Zarezan" (dedicated to the beginning of grape-vine pruning). The event will take place on February 14, 2018 at Colonist winery in Krynychne village, Danubian Bessarabia, Odessa region, Ukraine. The roots of this holiday go to ancient times when the Bulgarian landKs were inhabited by Thracian tribes and the most respected god was Dionysus – the god of wine and grape-vines.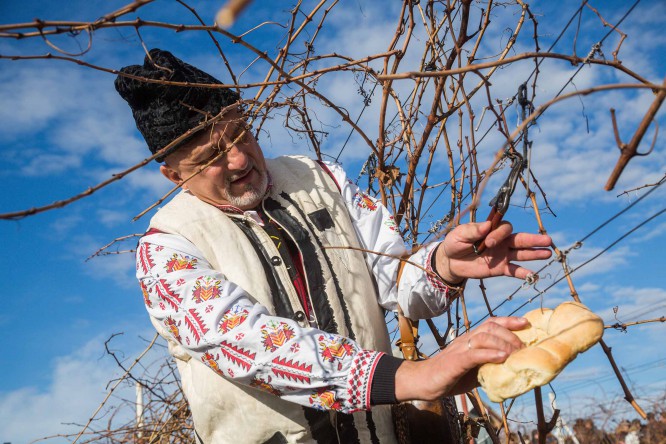 According to tradition, on this day, the grape-vines were pruned to get a big harvest in the fall. Nowadays, the Day of St. Tryphon is celebrated not only by winegrowers, but also by gardeners.
On this day, for the past 10 years, we have been organizing colorful events on the winery basis in order to share experiences, innovations, information in wine production between winemakers, equipment manufacturers, sommeliers, journalists and simply wine connoisseurs and consumers.
Guests of Danubian Bessarabia, the homeland of Ivan Plachkov, will discover the charm and peculiarities of the region, traditions and culture of local residents – ethnic Bulgarians. A wonderful holiday atmosphere, picturesque nature and fresh air together with excursion, wine tasting and national Bessarabian cuisine will leave you the unforgettable impressions!
Event Program
10:00-11:00 Meeting guests at the winery in Krynychne village. Light breakfast (coffee / tea, national pastry) in a winery tasting room.
11:00-14:30 An excursion to the vineyards. Opening of the "Trifon Zarezan" holiday with the participation of folk music bands. The symbolic beginning of grape-vine pruning. Blessing of the grape-vine by churchmen. Gluehwein and national snacks for guests.
15:00-16:30 Winery tours for guests – the secrets of wine production technology and uniqueness of the Kolonist wines.
17:00-18:30 Dinner at the fireplace lounge of Kolonist winery (the national Bessarabian dishes).
The cost of 1 day stay at the winery per 1 person is 500 UAH.
For more convenience, we suggest you to arrive in Izmail the night before and check in to a hotel considering that the celebration program begins early.
List of recommended hotels in Izmail:
GreenHall – (048) 41 78 555
VIP hotel – www.vip-hotel.com.ua
"Bessarabia" hotel – 067-444-87-71, http://bessarabiahotel.com/ru/
"Old Town" hotel – www.oldtown.com.ua
"ART-Hotel" hotel – www.arthotel-izm.com.ua
Please use the contacts below for additional information.
Please confirm your participation before 09.02:
Inna Zykina
+38 (044) 499-40- 22; +38 (063) 683-96- 48
e-mail: marketing.kolonist@gmail.com
We look forward to seeing you!