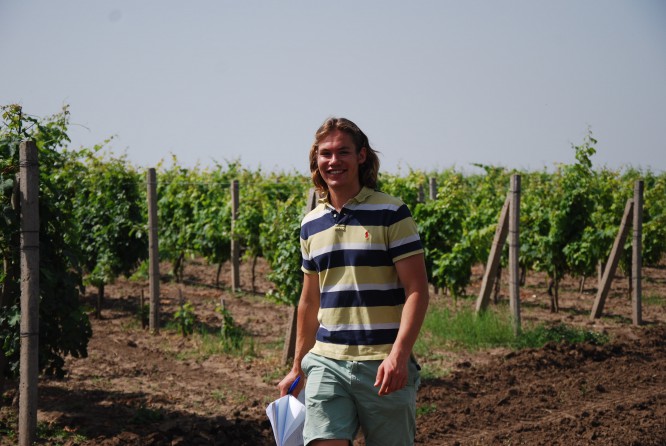 Corentin Aubrion – talented winemaker, future graduate from Bordeaux Sciences Agro School came to the "Kolonist" winery which is situated in Odessa region, in the heart of Denubian Bessarabia, to have an internship.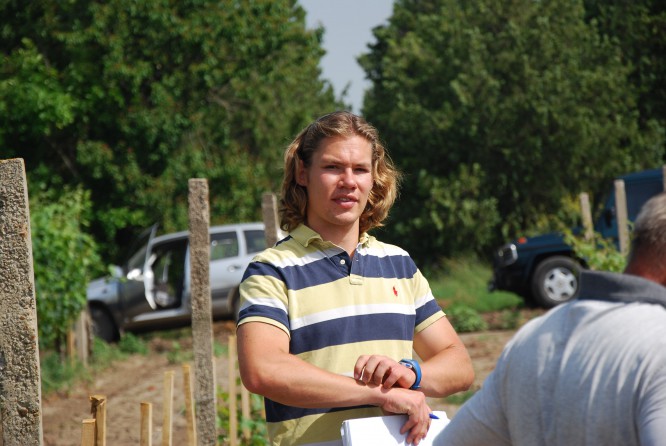 Corentin Aubrion is a student of Bordeaux Sciences Agro School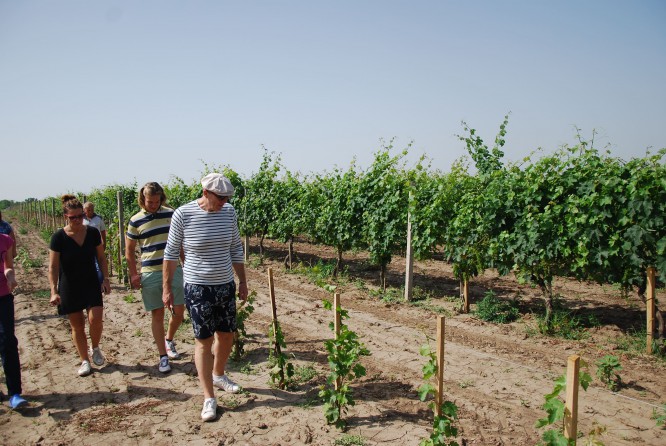 Team of "Kolonist" walking on the young vineyards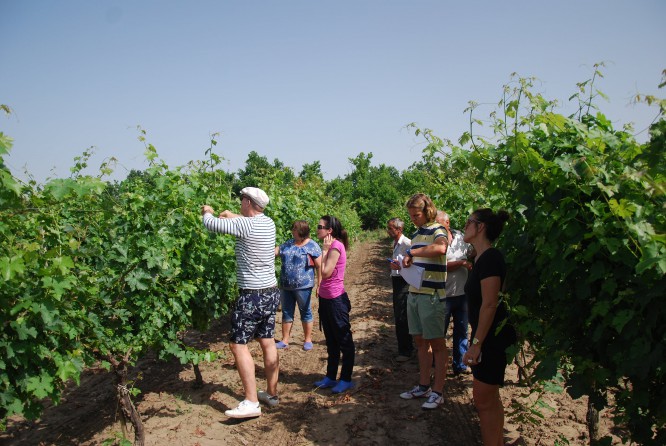 Olivier Dauga is a famous enologist from Bordeaux, trains how to work properly with vineyards
According to Study Program in Bordeaux one of the prerequisites is to have a 3 week of internship abroad. Students can choose on their own opinion any of wineries abroad. Corentin made his choice in favor of Eastern Europe – specifically in Ukraine. It is a real European integration, isn't it? This is incredible news, isn't it?
The vineyards of "Kolonist"
"Kolonist" winery and whole Ukraine is proud that international students, future famous winemakers from France are coming to us for studying of winemaking!
Olivier Dauga with translator on the "Kolonist" vineyards
Professional's hands. Olivier Dauga
Here below is the first interview of Corentin, where he will tell you: why he choose Ukraine, his thoughts about "Kolonist", Ukrainian wines and Denubian Bessarabia!
Kolonist: Hello, Corentin! Where are you studying?
Corentin: Hello! I am studying in Bordeaux Sciences Agro School, Ecole d'ingenieur en agronomie.
Kolonist: How did you hear about the "Kolonist" winery?
Corentin: I heard about "Kolonist" from enologist Olivier Dauga, who works here as wine consultant.
Kolonist: Why have you decided to have an internship on "Kolonist" winery?
Corentin: I heard a lot of good reviews from Olivier Dauga. It is original choice for me, because "Kolonist" winery is situated in the little known place for world's winemaking.
Kolonist: What was your first impression about "Kolonist" and it's terroir of the land?
Corentin: It's a wonderful land for winemaking. The climate is close to Bordeaux, especially in summer: when hot days changing cool nights. Also the largest lake in Ukraine – Yalpuh gives coolness to the "Kolonist" vineyards which are placed on the banks of the lake. Soil region is quite rich for organic matter that is why it's not so difficult to work on it.
Kolonist: What do you think about "Kolonist" wines?
Corentin: In my opinion, it's really good wine and very similar to the French, specifically to Bordeaux wine.
Kolonist: What surprised you most of all?
Corentin: A huge amount of hand work used in the wine industry here, especially on vineyards. As well as modern winery equipment at the highest technological level, laboratory, infrastructure, etc.
Kolonist: What do you think about wine making in Ukraine in general and in Denubian Bessarabia separately?
Corentin: I am not yet familiar with other Ukrainian wines. As far as I know, Ukraine has some large producers of wine, who are not really interested in wine quality, but there are many individuals who produce their own wine in small quantities.
Kolonist: Do you see "Kolonist" wines in the European market?
Corentin: Yes, of course!
Kolonist: Would you like to visit this place again?
Corentin: Definitely, and I'd like to introduce "Kolonist" to my large family!