Odessa Finally came! Deli swirl of local products and white wines Colonist!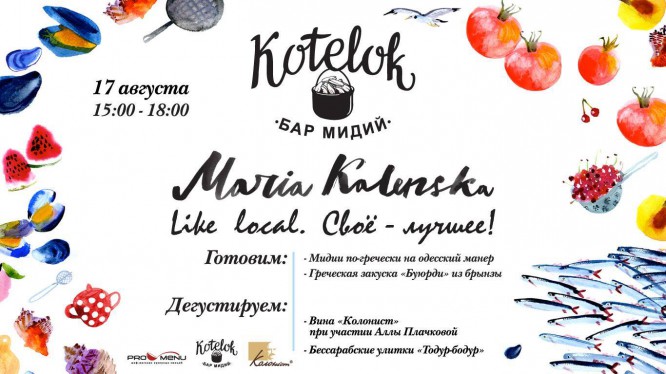 the Explosive mixture of emotions: natural cook Maria kalens'ke + the best utensils for the kitchen ProMenu + sommelier Alla Plachkov with wine "Kolonist" + next . Bar Mussels!!! And all in one place!!! Can you imagine?!
the Incomparable Maria kalens'ke - well-known food blogger, food expert and organizer of culinary schools in Odessa - satisfied with the evening meals from local produce and evening of Ukrainian white wine! Mussels cook together, eat the local snails, Bessarabia cheese, and drinking will white wine Colonist! About wine personally tell Alla Plachkov - a certified sommelier (WSET LEVEL 2), and co-owner of the winery "Colonist"!
we Invite everyone to Odessa in. Bar of mussels, 17 August at 15:00!
Address:. Odesa, vul. Garden, 17
to purchase tickets, please contact us by phone +38(063)3506420.
ticket Price 600 UAH.
In the menu one will find dishes that will personally make Maria kalens'ke:
- Mussels in Greek on the Odessa-style (prepared with the addition of white wine "Kolonist");
Snacks from Bessarabia cheese;
- Local snails "Tour-Bogor" (cooked in Burgundy).
And white wine Colonist, who personally will present Alla Plachkov:
- Bser (sparkling white wine Brut produced by the classical method champagnization);
- Suholimansky (dry white wine with Ukrainian grapes);
- Riesling (semi-dry wine is the hit of sales among wine "Kolonist");
- Muscat (dessert wine digestif).
see you in Odessa!