With a container-load of Ukrainian wine crossing the Atlantic on its way to Edmonton this month, St. Albert's Carl Steinke is bubbling with excitement over getting those reds and whites into Alberta liquor stores and onto dining room tables.
"There are tastings to do, shows to enter and that will be fun," he says. "I am basically a salesperson and I have done sales all of my life. This one here inspires me. I am really looking forward to selling it."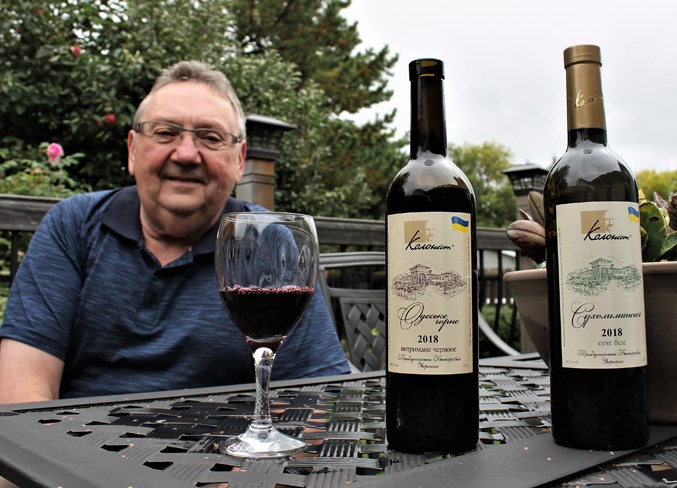 At a time of life when many men his age are more concerned with tee times, booking cruises and appointments with the doctor, Steinke is still looking forward to living the life he has always lived. Part of that may be because he still has teenagers living at home, but I get the feeling he simply loves the challenge.
"I have no intention of slowing down; I'm just about to turn 60," he says, seeing if I'll catch on to his joke. I do, and we share a smile. He turned 60 a decade ago.
Steinke's wine adventure began a little over a year ago when a large family contingent travelled to Ukraine to attend his stepson's wedding.
"He married a gal from northern Ukraine," he says. "We had a beautiful wedding and took the kids along for a week and a half – it was a big group, about 22 people from Canada."
While there, he and his wife Betty-Lou, a teacher, toured the medieval city of Lviv, near Poland.
"We ate in a good restaurant and asked for a good Ukrainian wine be
ave in stock) is the Odessa Black."
Intrigued, they went to a liquor store and asked for Odessa Black. The man behind the counter got a bottle and surprised them by opening it right then and there. After recovering from a mild case of culture shock, they sat down on chairs outside the store and enjoyed their purchase.
Steinke, who loves wine enough to grow grapes in his own backyard, was impressed.
"We got to talking and said it would be interesting to know if there was any of this wine in Canada because it is really quite good. It has a very deep taste to it."
The germination – or should it be fermentation – of his business idea had occurred. When he got back to Canada, he discovered no Ukraine wine on liquor store shelves, despite an abundance of people with some type of Ukrainian connection.
Steinke's father, descended from German colonists, came to Canada from a village in the Bessarabian region of southern Ukraine, only 140 kms from the winery that produced Odessa Black. The region is approximately at the same latitude as Bordeaux in France and the Piedmont in Italy.
"My dad used to always talk about the wine that they grew on their farm."
Ukraine is not known as a big wine producing country, though some eager businesspeople there are eager to uncork that potential. Wine had historically been produced since at least 400 BC, but the Soviet government had destroyed vineyards in favour of its own policies.
Steinke shows me bottles of three wines from a small shipment he flew over from Ukraine as samples. They are from a small winery called Kolonist that produces about 350,000 bottles year under the guidance of a winemaker who learned his trade in Bordeaux. There's the Odessa Black and a white called Sukholymanski, both produced from grapes indigenous to Ukraine, as well as a cabernet sauvignon.
Kolonist wines, becoming well-known in England and Germany, had never been exported to Canada. He says that so far, the wines have only been sold at Lacombe Park Spirts in St. Albert.
"We flew the first shipment of sample wines over here so we could see whether or not they were good or vinegar," he says. "One of the things people have in their minds about Ukrainian wine is that the wineries produce sweet wines because they seem to have a taste over there for sweet wines. But these wines we are bringing are classic dry wines."
A small sip of the Odessa Black confirms this. It's good to me, though I am no expert and choose to swallow instead of spit. Steinke tells me that it will be his feature wine and that it has won awards at shows in London.
There is more to the wine business than sipping, however. Fortunately, Steinke had a friend who had also imported wines and explained to him how the highly regulated world of alcohol works.
Steinke made a business plan and submitted it, along with all the necessary forms, to the Alberta Gaming, Liquor and Cannabis Board.
"If nobody is bringing in that particular winery then you will probably get approval. I did my due diligence and the people at the winery were tremendous."
Kolonist had never sold wine in Canada, nor heard of nor met Steinke, but they put their faith in his enthusiasm and commitment.
"It is a trust thing," Steinke says. "Those people over there have put everything they've got into this bottle of wine and they are sending it over here to somebody they really don't know …There is something there for me that I feel very honoured to be able to offer this over here."
Steinke once owned his own business selling industrial goods to the oilpatch and understands the challenges any sales endeavour could conceivably face. The liquor board reduced that stress because it handles the importing, the warehousing and the collection of the money after the wine is sold.
"The Alberta liquor board is very open to helping entrepreneurs start up their own wine businesses if all of the criteria are met, he says. "We have to pay for it, of course, but they just do a wonderful job.
Steinke now worries about the arrival of the shipping container before the weather gets cold enough for his wine to freeze. He doesn't want to reveal how much he has tied up in that wine, but it is significant for a guy at retirement age.
"I will be hustling a lot because there is a lot of money tied up in it. But the good part about it is that all of the infrastructure is in place. It gets checked into the liquor board warehouse. I have my bay there."
If liquor stores and restaurants want to stock his wine after his sample and sales pitch, they can simply order it from the liquor board.
This entire effort means more to Steinke than whatever money he may eventually make. It about more than buying himself a job. He honestly cares about helping the region his father often spoke about. He hopes that not only Ukrainian-Canadians, but also the descendants of Bessarabian Germans enjoy this wine in their homes, at their weddings and celebrations and in their restaurants.
"A big part of it is that I feel very, very attached to helping out Ukraine in any way Canada can," he says. "We have trade agreements and the Ukrainian president came over to open trade avenues. This is a small piece but it is going to be my sales pitch. It is not necessarily that the wine is great, which it is, but that's a bonus.
"This wine is from our homeland."
А source: https://www.albertaprimetimes.com/edmonton-news/retired-salesman-brings-ukrainian-wine-to-alberta-20...