Riesling
Riesling is one of the most well-known white wines all around the world, famous with its unsurpassed bouquet of flavours, exquisite aroma and delicate aftertaste. The family winery "Kolonist" online shop offers Ukrainian semi-dry white wine made from Rhine Riesling grapes, which were carefully cultivated by our wine-growing specialists. We make Ukrainian Riesling wine in accordance with international standards by traditional technology, which guarantees our customers a high-quality drink with juicy notes of fresh berries and a subtle flavour of tropical fruits. Riesling is a drink of true aristocrats who enjoy every sip, feeling the superiority of white dry wine.
Rhine Riesling is a technical West European grape variety. It originates from the banks of the Rhine River in Germany. Nowadays, Riesling is common in many countries, both of the Old World and the New one. For example, Germany, Austria, Switzerland, Argentina, the USA and many others. Winemakers from different countries are very pleased to work with this grape variety, because it is peculiar for its ability to give wine with different characteristics in taste and aroma. The main difference of Riesling in aroma will be presence of mineral tones, limestone and sweet fruits. You can find many different types of Riesling all around the world. The following types of Riesling are produced: dry, semi-dry, semi-sweet, sweet, aged and unseasoned Riesling. In Germany, where this variety comes from, Riesling can be found even from grapes whose berries are struck by noble rot under the name "Botrytis gray" (Latin Botrýtis cinérea). As a result of this noble rot, berries get wrinkled and lose their juice, but sugar in them remains. Thus, the botrytized grapes produce expensive, world-famous sweet wines.

Buy Riesling from the Ukrainian winery "Kolonist"
Only here you can buy Ukrainian semi-dry Riesling wine at an affordable price and be confident in its high quality, because the family winery "Kolonist" cares about every customer, offering only high-quality wines. Our experienced winemakers are skilled professionals who know all the subtleties, nuances and secrets of making a traditional semi-dry wine from white Rhine Riesling grapes. Having tried Riesling from the Ukrainian winery "Kolonist", you will be convinced that not only German winemakers can make Rieslings of high quality. You can order Riesling from the "Kolonist" winery on our website.
Characteristics of semi-dry Riesling wine from the "Kolonist" winery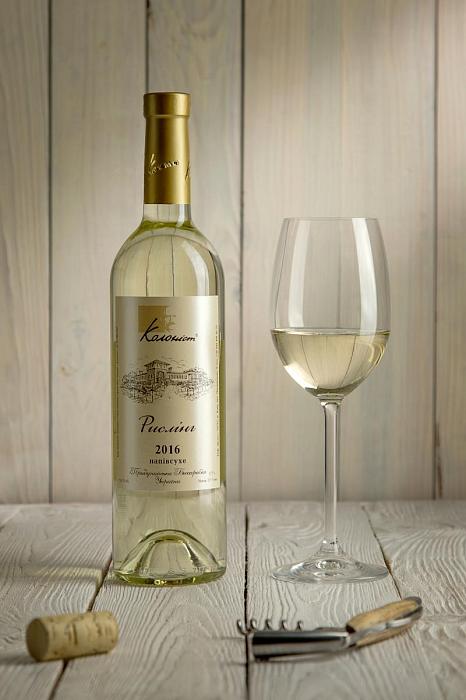 Colour: white semi-dry Riesling wine, made by the "Kolonist" winery, is distinguished by its light-golden colour with a light lemon tint, which gives the drink sophisticated look and fascinates at first sight.
Aroma: due to specific properties of grapes that appeared in the process of fermentation, semi-dry white Riesling wine is filled with unique harmony of both fresh and rich aromas. Juicy berries and tropical exotic fruits (lemon, citronella, peach, apricot, pear, grapefruit, mango, melon) are perfectly combined with fragrant floral notes (white flowers, lime blossom) and create a unique palette of flavours and aromas. Only in our "Kolonist" online-shop you can always buy white semi-dry Riesling wine at an affordable price and get a lot of flavourful tasteful sensations.
Taste: Riesling, made by the "Kolonist" winery, has an exquisite taste, a delicate aroma and special fruit freshness. Properly formed wine structure makes it an ideal complement to high cuisine or a festive table. Thanks to its specific taste properties, the drink perfectly complements any refined dish, enriching its taste with fresh and bright shades. The drink is perfectly combined with hard and creamy cheese, fish dishes and seafood. Riesling is a wine that enriches the taste of the dish and gives it a sophisticated note of fresh aroma and long-lasting aftertaste. Due to the residual light sweetness, semi-dry Riesling is also very popular as an aperitif.
It depends only on your individual preferences which gastronomic pair you will choose for this divine drink. In any case, such a combination will open all the secret outlines of white semi-dry Riesling wine, enriching its taste range with specific shades. Our "Kolonist" online-shop presents unseasoned white semi-dry wine made from Riesling grapes grown on "Kolonist" winery's own plantations. Vines are treated and harvest of grapes is made exclusively by hand of professional wine growers. We made this wine for you with great love at an honest price. Only here you can buy Riesling wine without the slightest doubt because the "Kolonist" online-shop is a guarantee of quality and reliability.